Enjoy following the Quilt Trail in Unicoi County and beyond
Appalachian Trail
Nolichucky River
Wolf Ridge Ski Resort
Spivey Falls (8 miles)
Red Fork Falls (18 miles)
Rock Creek Falls (4 miles and a hike)
Red Fork Falls
Erwin Linear Park and hiking/biking trail (1 mile)
Heritage Museum (5 miles) 743-9449 (call for dates and hours)
National Fish Hatchery (5 miles) 743-4712
Scenic Beauty (all around us)
Beauty Spot (11 miles)
Rock Creek Park-hiking trails and Falls (4 miles)
Apple Orchards 423-743-9584 (8 miles)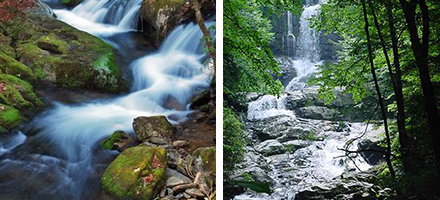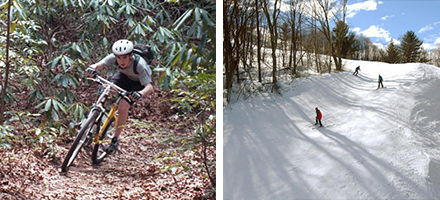 Eclectic Shops and stores
Congress made provisions for this fish hatchery in 1894, and it was established in 1897. The U.S. Fish and Wildlife Service operates the fishery. Several strains of rainbow trout and fertilized eggs are produced here, and the hatchery supplies brood trout and eggs to other hactheries, research facilities, and other countries. Brood fish weigh between three and six pounds. More than ten million eggs are shipped each year. Viewing is allowed in a few raceways and indoor tanks. There are nature trails that go by ponds on the 30-acre area.
Once scheduled to be demolished, the Unicoi County Heritage Museum was saved through the efforts of concerned citizens. This beautiful Victorian style house built in 1903 was at one time the home of the Superintendent of the hatchery. It is now used to display artifacts and exhibits that interpret local history from Indian times, through the Civil War, to the beginning of the twentieth century.
Fall Colors
Every Fall we start seeing leaf color projections on cable travel shows and magazines. The two main areas are New England and the Southern Appalachians. The primary reason for this is the predominance of deciduous hardwood trees like hickory, oak, maple, poplar, dogwood and many other species in our woods and the fact that we have huge areas of national forest land. Several publications have listed Unicoi County as one of the top five leaf looking drives in the United States!! With roadside produce stands full of molasses, honey, mountain apples, pumpkins, and homemade goodies and the weather perfect; plan on making reservations with us in mid-October and you will have one of the best adventures you have ever had.
Christmas Tree Farms
East Tennessee and Western North Carolina is known as the capitol of the Frasier Fir Christmas tree farming industry. This tree is sold throughout the United States as the finest holiday tree available because of its color, texture, aroma, and durability!
Every year more and more visitors stay with us in late November and early December and make the "cutting of the Christmas tree" an annual tradition for their families.
Mountain Music
Bluegrass, gospel, southern rock, jazz, and all kinds of great music can be heard and enjoyed somewhere near us almost every week of the year! Whether you prefer a small club setting or the back porch of a country home—we are the perfect place to stay while you sample the diversity of mountain music.
Relaxing
Sometimes we get caught up in trying to do too many things in too short of a time, and our vacations turn into work! Maybe you need to relax with us a few days and get your feet wet or just sit on a rock while your stress and troubles flow away!